Every holiday season, you will see different companies launch all types of holiday campaigns for their company or products. These campaigns can become extremely competitive, especially since they are all being released around the same time. So, what makes Target's holiday campaign different and uniquely successful this year?
https://www.youtube.com/watch?v=ifvRgJMfop4&list=UUralvBh1hSGRf4SrjS-mY7Q
This year, Target has launched a holiday commercial featuring a "Marshmallow World" full of candy, toys, marshmallows and a little girl looking as if she is having the time of her life. A commercial that targets not only adults, but children, is a great way to ease everyone into the holiday season. When children view this commercial in between their television shows, they will want to go to Target in hopes of experiencing a "marshmallow world". Using television commercials to promote a product or company is a great way to get people talking about you, since everyone watches television at one point or another and will be bound to see it.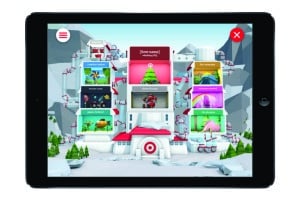 In addition to their television commercial, Target has created a new Wish List application that can be downloaded on tablets or iPads. A huge majority of people, including adults, teens and children, have a tablet or iPad and are utilizing different applications that can be downloaded. This app is built like a registry, and allows for parents to be able to see, manage and share their kids' wish lists with friends and family.Target has also allowed for their guests to save 10% off of their Wish List on any specific day of their choosing by November 26th.
Target's apps do not stop there. They have also created "Target's Cartwheel savings app". From November 2nd until December 24th, Cartwheel will offer 50% off on a different toy every single day. Target is digitally promoting themselves by getting their customers involved in their store and products through applications that are fun and exciting to use! Can you say, genius?
Once children have been drawn in and are begging their parents to head to Target, they will arrive to a Winter Shopping Wonderland created by their event designer, David Stark!  Having their stores be decorated along with their applications shows that they are following through for their customers. Children will view the "Winter Wonderland" digitally and in turn, watch it come to life when they arrive at their Target.
Utilizing digital media to market nowadays is the best way to become and stay successful. By not only commercializing their company, but allowing for children and families to get involved with their company through technological devices is the best, hands-on way to market!